Transcend (In Progress)
Transcend is a web application created in collaboration with the independent filmmakers of
Cineworks
that
connects
filmmakers allowing them to
collaborate, create
and bring their scripts to life.
Roles:
Interaction design, strategy, user research, copywriting, visual design, interface design
Tools:
Adobe Illustrator, Adobe After Effects, Sketch
Overview
Cineworks
Cineworks is an independent filmmaking society based in Vancouver that supports independent filmmakers in their creative endeavors.
Over the course of 4 months, we interviewed Cineworks' staff, stakeholders and members, visited its locations on a weekly basis and immersed ourselves into the organization to gain a complete understanding of their processes, goals and vision.
Process: Choosing the Right Design
Initial Research
Early on in our research, we found that there was a lack of sense of community at Cineworks primarily fueled by:
Based on these initial findings, we set a design focus that would inform the research direction moving forward.
Initial Design Focus
To encourage interpersonal interaction between Cineworks' members to help cultivate a sense of community within the organization.
Cineworks' Processes
Visiting Cineworks' locations and interviewing staff, filmmakers and other members presented 2 potential
intervention opportunities: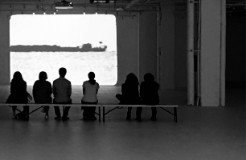 Co-Creation Workshop
I lead a
co-creation workshop
that my team and I designed with the intent of harnessing the filmmakers' creativity to learn more about their experiences, feelings and emotions.
We used a
collaging activity
to encourage the members to articulate their experiences and emotions using pictures and words, a
graffiti wall
to label opportunity areas that surfaced and an
H-form
to start brain-storming solutions.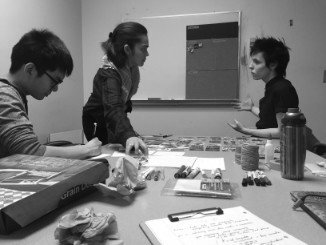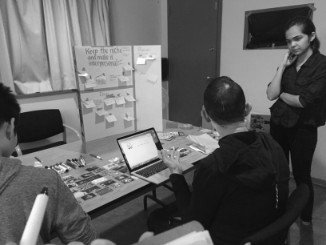 Workshop Results
The workshop gave us insights regarding what filmmakers and Cineworks members want from a "filmmaking community."
Cineworks' filmmaking community is more heavily centered around
production rather than exhibition.
The 3 C's of a filmmaking community are:

With these findings, we reframed our design focus to cater to these 3 C's
Reframed Design Focus
To create a community that connects filmmakers by opening up avenues for them to collaborate and create films.
Coming Up...
My team and I are in the process of
designing and prototyping
our final design proposal. On December 5th, we plan to present the prototype to Cineworks and its members to elicit feedback and fine-tune our design.